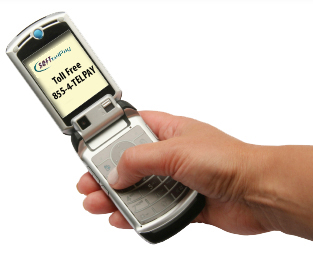 SOFTtelPay is a convenient way for your customers to pay their bills by credit/debit card toll-free over the phone or using our website. SOFTtelPay will reduce the number of late payments, shut-off problems and customer calls to your office... and the customer can pay whenever it's handy for them, 24/7!
As Easy As 1-2-3!

By Phone
1. Pick up your phone
2. Dial toll free 855-4-TELPAY (855-483-5729)
3. Enter the prompted information
By Web
1. Open your web browser
2. Go to pay.softtelpay.com
3. Enter the prompted information
Additional Features
Customer Messages
You can inform your utility customers with a customized recorded message that precedes the payment process. Simply type in your message to be digitally recorded or record a personal message in your own voice. Let your customers know about special meeting dates, meeting results, rate information, fundraising events, utility saving tips, etc.
What will SOFTtelPay cost?
With SOFTtelPay, there is NO CARD FEE to you. The caller is charged a reasonable convenience fee. Contact SOFTtelPay to discuss the options that are best for your company.

Now you can afford to let your customers pay by credit/debit card!
Fill out the Contact Form and a representative will call you to discuss your company's individual needs and to review the features available at a cost you can afford.

© 2011 - 2018 • SOFTtelPay • A Division of Intedata Systems